Strawberry Festival Showcase
Memorial Day Weekend
Arroyo Grande Strawberry Festival - Teen Plaza Stage!
Saturday & Sunday - May 25/26
Sign-up to perform here!
- Saturday, May 25th at 1:00-2:00 - CLICK THIS LINK
- Sunday, May 26th at 1:00-2:00 - CLICK THIS LINK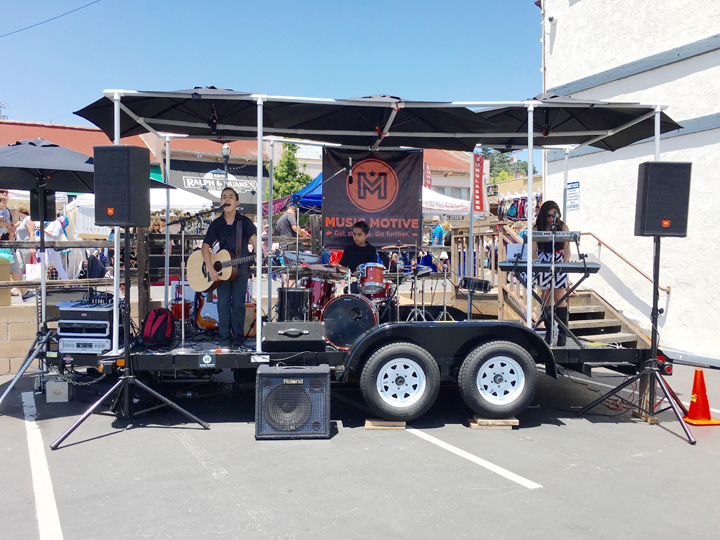 Hello Music Motive Students!
For the 5th year, Music Motive is hosting the youth stage (next to Klondike's Pizza) at the Strawberry Festival in Arroyo Grande on Saturday & Sunday, May 25-26, Memorial Day Weekend! We invite our students to perform on
Saturday
and/or
Sunday
1:00-2:00 on the MUSIC MOTIVE STAGE at TEEN PLAZA.
• Performances are similar to our 'Student Spotlight' format (3-5 minutes).
• You can perform to a recorded track DOWNLOADED onto an MP3 player or bring a CD. You are responsible for queuing up your own track.
• Other instrumentalists are encouraged to play solo or team up with another student or family member.
• Non-Music Motive students are allowed, as long as they are performing with you.
• We will provide: piano, drums, guitar amps, PA system so all you will need is your music, sticks, guitar, etc.
• Unlike the Student Spotlight, your teacher may not be there.
There is no guarantee how much time will be allotted or if we can fit everyone in who wants to perform, so please sign up ASAP!
Deadline to sign up is May 15th!
CLICK THIS LINK to sign up on Sunday, May 26th at 1:00-2:00
Thanks!
Director, Steve Hilstein
EMAIL QUESTIONS HERE: