Bucketeers
"I have 2 boys in the class and they both love it! Thanks for a great program."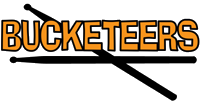 -Kristine Maas, San Luis Obispo
About Bucketeers
Bucketeers is a beginning level drum class where students learn the basics of how to play the drums. The 8 week class focuses on drum rudiments and proper technique.
By the end of the class students are be able to perform a routine. Everything is played on five gallon buckets but can be applied to real drums. It's a fun and affordable way to learn to play the drums! On occasion Bucketeers "grads" will be invited to perform with the Bucket Busters!
Information
•Classes meet 8 times during a session. Each class is $99.
•We offer early registration and multiple family discounts.
•There are 3 sessions per school year. Fall • Winter • Spring
•Summer classes are held at Music Motive and other locations.
•Students can repeat classes to achieve various levels.
•These enrichment classes will be available at most SLO County schools.
• Late registration closes after 2nd class.
• Materials are provided for all new students taking a class the first time. Replacement materials may be purchased [HERE], by contacting us in person, or by phone.

AT AN ELEMENTARY SCHOOL NEAR YOU!
•Fall session starts the 3rd week of September.
•Winter session starts the 2 week of January.
•Spring session starts the week after Spring Break.
•Summer session at Music Motive.
WAYS TO REGISTER

•Here on this website
•Call us at (805) 543-0377 ext 1
•By mail [click here for a Registration Form]
Family / Multiple Class Discount: SAVE $10 for each session when signing up for 2 or more classes within family members. Discounts will be applied after registration.
---
805.543.0377
Bucketeers In Action!
After just 10 weeks of practice, a few Bucketeers performed with the Bucket Busters for the 1st time! Instructor: Micah Grogg.
"Carlton has had SO MUCH FUN in the drumming class. He comes home and practices and wants to tell me all about what he is learning. I love watching his excitement. I can't wait to watch him perform in a couple of weeks."
-Sheri Brown, San Luis Obispo
805.543.0377