Drum! - Bucketeers
"I have 2 boys in the class and they both love it! Thanks for a great program."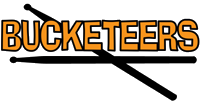 -Kristine Maas, San Luis Obispo
About Bucketeers
Bucketeers is a beginning level drum class where students learn the basics of how to play the drums. This 7 week class focuses on rhythms, notation, & fun!
By the end of the class students are be able to perform a routine. Everything is played on five gallon buckets but can be applied to real drums. It's a fun and affordable way to learn to play the drums!
We currently offer classes to a limited number of schools. If you are interested in having any of these classes in your school, please email us or contact director, Steve Hilstein.
REGISTER - (BOTTOM OF THIS PAGE)

Register early because classes can either fill or cancel due to low registration.
You will not be charged until the class is confirmed.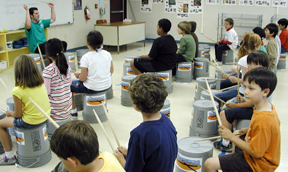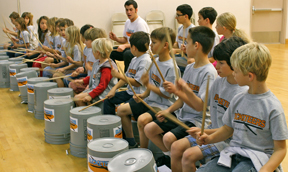 General Information
• Class meet 7 times during a session. • Printed materials are provided. • Students can repeat a classes. • Late registration closes after the 2nd class. • No cancellations or refunds after the 2nd class.
• Scholarships rates are $25 to those who qualify. • Download a scholarship application form [HERE]. • SCHOLARSHIP INFORMATION LINK.
Order Bucketeers Buckets and Drumsticks
Please note: We deliver items to you by the 2nd class. After that, you may pick up your order at Music Motive in SLO or we can arrange for you to pick up at a Music Motive studio in AG, Templeton, or Nipomo.
• Bucketeers bucket & sticks - $15
• Sticks - $6
• Bucket - $12
(805) 543-0377
"Carlton has had SO MUCH FUN in the drumming class. He comes home and practices and wants to tell me all about what he is learning. I love watching his excitement. I can't wait to watch him perform in a couple of weeks."
-Sheri Brown, San Luis Obispo