ROCK BAND SUMMER CAMP 2018
ROCK BAND CAMP #1 July 17-20, 2018 -

FULL
ROCK BAND CAMP #2 July 23-27, 2018 -

Added!
• Form a band, learn songs, play a show, have FUN!
• Interact with musicians in a fun & creative environment.
• Learn music theory, music appreciation, & song writing.
• Learn the ins and outs of putting on a live performance.
• Put on a real rock show performance for friends & family!
Music Motive's Rock Band Camp puts each camper in a real rock band led by one of our amazing Rock-star Counselors! Each band will choose a name, rehearse songs, and play in a real rock concert for their friends and family! Campers get the full experience of being in a band and will perform popular Rock and Pop songs from the past to the present! Rock Band Camp is designed for musicians of all skill levels, from beginner to advanced, who play guitar, bass, drums, keyboard, and vocals. Our camps are great as in introduction to Music Motive, or as a complement to our year-round programs. Come ROCK with Music Motive this summer!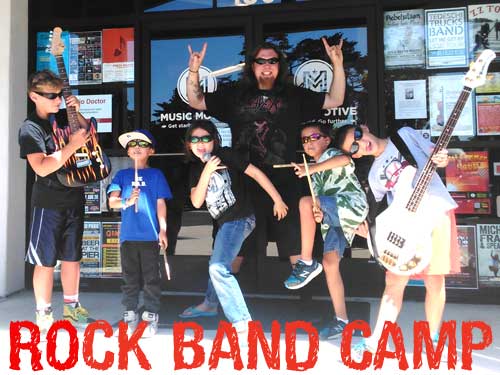 2016 Rock Band Campers
Some details:
Duration: 5 days (Monday through Friday)
10am to 2pm all 5 days
Campers bring their own lunch
Concert on Friday at 1:30pm at Music Motive
Kids should come to camp with:
- their instrument (guitar and bass only)
- picks or sticks (guitar, bass, drums only)
- a spiral notebook for notes
- snacks, if so desired
- a lunch