The Bucket Busters Story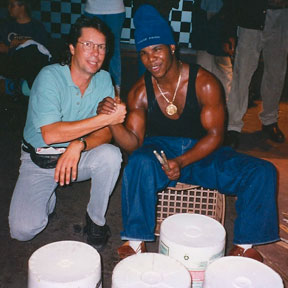 It all started in the mid 90's as I watched a video of Larry Wright, the first Buddy Rich Memorial Scholarship recipient as he performed ...on three 5 gallon plastic buckets.
There I stood, gazing at the TV monitor in the middle of my drum shop, surrounded by beautiful new drum sets while this young man made rhythmic poetry on a bucket. It was emotional. At that moment I realized that you didn't need an expensive set of drums to make incredible music. By chance, I met Larry on a street in New York City a couple years later (pictured above left).
Bucket Busters originated in 2002 at the request by my friend, Mark Collier, who asked me to form a "bucket drumming group" for a church program. We only performed three times that year, but I knew something special was happening. That following year, a single mom, lead by her young son came into my store to find out how much it would cost to sign up for music lessons. I could tell by the look on her expression that she couldn't afford it. It broke my heart. I never saw them again, but I will never forgotten the disappointing look on their faces. At that moment I decided that I wanted to do something about it. My desire to make music education accessable for all kids had just begun. It never occurred to me that a group of adolescent bucket drummers could make it happen.
In October 2008, with as much hoopla as I could muster, we started again. Only two guys and a heart full of doubt showed up for that 1st rehearsal, but on my way home, I stopped at a garage sale. A lady there took one look at me and said, "aren't you that 'bucket drumming guy' (from six years ago)?" Confirmation. From there we grew, practiced, and performed on March 7, 2009 at Farmers' Market in San Luis Obispo.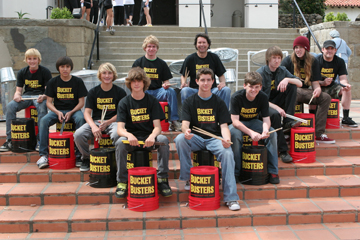 I knew this would be fun, and people would like the group, but what I didn't expect was that lives would be changed forever, including my own. These funny, quirky, creative adolescents, never cease to amaze me. Some of them have serious challenges, family issues, and frankly, just being a young teenager can be mysterious and confusing. Bucket Busters has given them something positive in their lives, and we have been able to provide music lessons for any kid who otherwise couldn't afford it.
In September 2010, we released our first album/CD, "Buckets Of Fire!" and provided hundreds of music lesson for kids!
Currently, May 2014, we're getting ready to release our newest album/CD. More music sholarships, and more enrhiched lives!
-Steve Hilstein, director